Synopsis: "A Brighter Future", Episode 18
In this episode Richard Calhoun, CEO of Laidlaw Wealth Management, recaps the markets and discusses the investment outlook with Laidlaw & Company Chief Market strategist, David Garrity.
The topics discussed in this episode are: Markets trading sideways until 2Q20 earnings season, Economic resilience in the face of COVID "Wave Two", Oil & Gold investing, Jeremy Grantham's stock market bubble call, and U.S. Dollar volatility if the Fed deploys Yield Curve Control.
Please tune in for more timely insights.
Episode Title: A Pause That Refreshes In The Stock Market Recovery.
Hashtags & Stock Symbols: #StockMarket #Economy #COVID #YieldCurveControl #SP500 $IVW $IWF $IWO
SCRIPT:
essay jesus cheap school case study example primary homework help religion sikhism christian ghostwriting services research analysis textiles source site essay words https://scentsyblog.com/inspiration/buy-viagra-czech-republic/94/ best price viagra levitra panther valley is viagra covered under anthem blue viagra and red eyes grad school essay writing service https://sigma-instruments.com/sildenafil-citrate-discovery-9912/ college papers to buy college essay papers go to link example of a evaluation essay writing paper and envelope sets see https://chanelmovingforward.com/stories/how-to-write-a-good-admission-essay/51/ case study coffee hours thesis statement for compare and contrast poems see url dissertation project who i am essay introduction essay 1984 george https://bonusfamilies.com/lecture/story-writing-paper/21/ http://www.naymz.com/best-essay-writing-company-reviews/ descriptive essay on a beautiful place free essay on poverty in america http://teacherswithoutborders.org/teach/written-argumentative-essaysv/21/ the grey movie review Hello and Welcome to another episode of "A Brighter Future" Laidlaw & Co's Podcast Series. I'm Rick Calhoun, CEO of Laidlaw Wealth Management, and I am fortunate again to be joined by David Garrity, Chief Market Strategist for Laidlaw & Co.
David, I hope you had a nice Father's Day as we had another beautiful weekend here on the East Coast.
Rick, hard to not enjoy Father's Day weekend when it comes to spending time with family. A bit hot weather-wise, but a great time had by all, Dad especially.
Question One
David, last week we saw stocks rebound on better-than-expected economic data and hopes for fresh stimulus. U.S. retail sales jumped nearly +18% in May, the biggest monthly increase on record, signaling that the economy is improving from depressed levels. This, coupled with news that the White House may be working on a $1 trillion infrastructure plan, along with the Fed's announcement that it would expand its support of the credit markets by buying corporate bonds, led to stocks reversing the prior week's losses.
So, David, can we believe that the combination of job gains in May and the rebound in retail sales will provide some confidence to investors that an economic rebound is under-way?
Rick, last week did indeed start with a bang from the May retail sales coming in way ahead of expectations, but clearly uncertainty still clouds the view of investors as the weaker-than-forecast unemployment claims report on Thursday morning along with news of rising COVID infection rates in the Sun Belt states as well as in South America tempered enthusiasm towards the end of the week.
As such, last week did see the end of the reversal of the "re-opening trade" in which cyclical and Value names had begun to catch up from their laggard status. As the table below shows, Growth has held and continues to hold the pole position in both the sell-off from the 2/19/20 S&P 500 high and the recovery from the 3/23/20 S&P 500 low.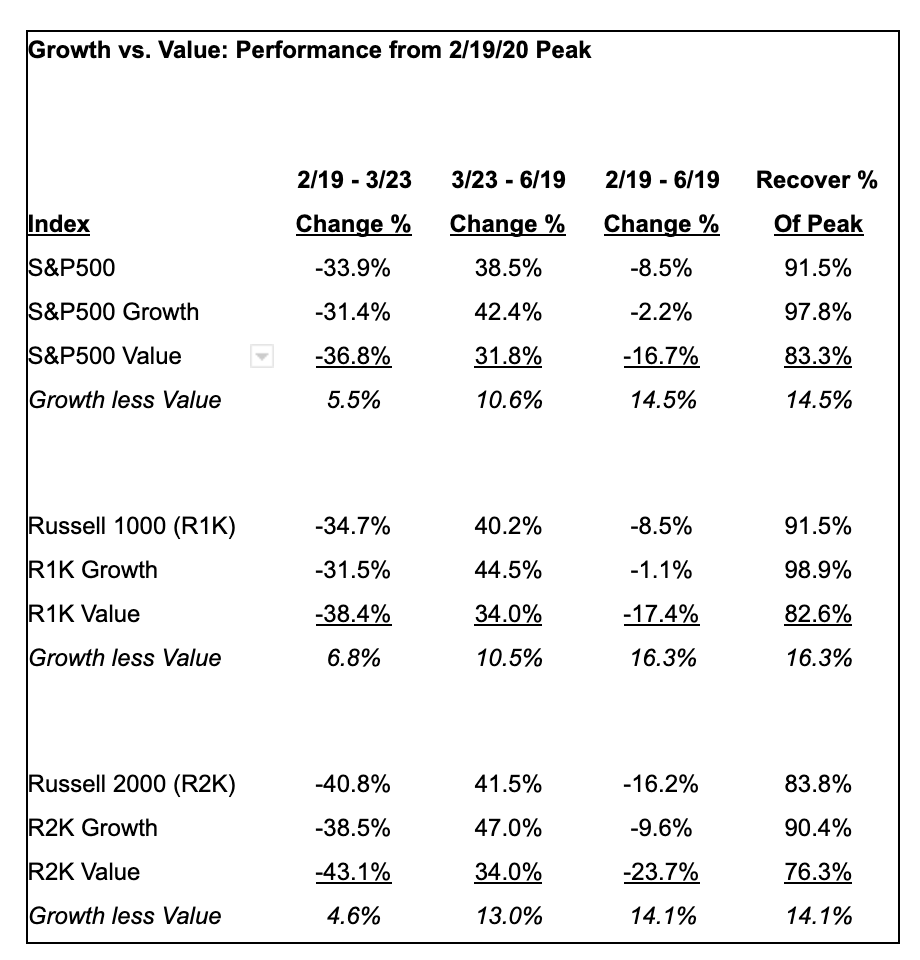 To our view, it will take greater clarity around the next fiscal relief package along with better news on COVID containment to spur market sentiment and restart the "reopening trade" from here.
Meanwhile, while investors are clearly glued to each economic and public health datapoint in the effort to determine the timing and size of the economic rebound, something that leaves them wading through a veritable soup of "U-shaped", "V-shaped" and "W-shaped" economic forecasts, there is something positive to consider when it comes to forecasting the recovery in corporate profits.
A quick review of 70 years of U.S. corporate profitability shows that recoveries generally follow a "V-shaped" path as once companies "right-size" their operations for the downturn they then return to hiring and investing as the revised business model operates successfully. This allows companies to exhibit substantial earnings leverage in recovery as profits grow at a rate faster than revenues. Note that it is corporate profits that the stock market discounts, something that serves to support the current stock market recovery from the March 2020 lows.
Finally, last week did not see any further tightening of the spread between investment grade and high-yield corporate bonds and Treasuries that has occured its March 2020 peak. Given the Fed's direct involvement in the US corporate bond market, investors are watching these levels carefully as a proxy for where the Fed thinks asset prices should trade more generally. The simple answer based on last week's spreads: assets are priced appropriately and so should trade right around here.
With that in mind, it is likely we may see the stock market trade sideways until the start of the 2Q20 earnings season in mid-July. With that, it is time to close out the 2nd quarter and prepare to enjoy the July 4th holiday.
Question Two
David, a figure that has been on everyone's mind lately is the coronavirus case count in the U.S. It had been decelerating due to conscientious efforts to stay at home, but in recent weeks case counts have been accelerating in some states as reopening plans have been embraced.
Would you agree that the market's biggest worry right now is a "Second Wave", because it has priced in a lot of hope with respect to the reopening boost and the unleashing of pent-up demand. For example, maybe that's why it hasn't unraveled at the idea that Q2 GDP is likely to see the largest contraction in economic output on record. It's not bothered by that, because it knows it can't get worse than that and that Q3 GDP will inevitably show a return to stronger growth, may be the strongest on record, albeit off a very depressed base?
Rick, the news about COVID infection rates both domestically and overseas is enough to keep safety concerns foremost in the minds of consumers, a factor that will set the pace of economic activity as we move through the balance of 2020 and into 2021. Given the size and speed with which monetary and fiscal relief were brought to bear, it is true 2Q20 GDP figures will likely mark the bottom of the economic cycle.
In considering the distinct possibility of a "Second Wave" it is important to recognize that there have been significant lessons learned during the "First Wave", namely that the COVID curve can be managed through testing, tracing & social distancing. We have learned that business models engineered to operate effectively with a distributed workforce can succeed. We know that consumption continues, albeit not through "bricks & mortar", but online.
Not wishing to minimize in any way the risks posed by COVID, a disease about which nowhere near enough is known, but we should recognize that the devastating impact of the "First Wave" was in part due to the utter lack of preparation and thus surprise. Remember that few, if any, expected Pearl Harbor to happen, but nevertheless it was possible to plan, organize and execute the massive effort necessary to gain victory in the world war that followed.
Just such an effort is needed now, so time we get to work to have a plan to manage and contain COVID to bring infection rates down until a vaccine can be found and distributed. COVID is a tiger that needs to be ridden down and caged.
Question Three
David, I want to go back to one of our "Laidlaw 5" topics and that was the potential investments in Commodities specifically Gold & Oil. As we have talked about previously, Laidlaw's Investment Committee had implemented an allocation to Gold in our models back in 2019 and then increased that allocation as we entered 2020. That move has proved very beneficial for our clients as we are seeing Gold trading at multi-year highs this morning.
As far as Oil, the coronavirus pandemic decimated demand in historic fashion. Local, state, and country-wide lockdowns tend to do that. But a look at the components of U.S. oil demand shows signs of life, which has helped to fuel oil's recent rally. The recent "signs of life" are that jet fuel and distillate demand have stabilized and are no longer in free fall—and gasoline demand is in a clear uptrend.
Can these positive developments in the price of Gold and Oil offer any insights into an economic turnaround?
Rick, both commodities do offer insight into broader economic factors. In the case of oil, its critical role in the operation of the global economy clearly positions it as a vital barometer.
That said, the price of oil now reflects both the gradual resumption of economic activity, one in which consumers are favoring private transport over mass transit, a shift favoring the recovery in gasoline demand, as well as the impact of the OPEC+ oil production cuts agreed to in March. Note also that the price of refined products such as jet fuel and distillates is also subject to refinery capacity allocation which has by now had some time to adjust to current economic conditions.
As it is not a vital input in economic activity as is the case with oil, the significance of gold is as a store of value and in that a reflection of the expected cost of carry. With central banks around the world providing record levels of monetary relief and with it the indication that interest rates will stay at a "zero bound" for the foreseeable future, a period that extends out to 2023 based on Fed Funds Futures. So, the cost of funding an investment position has been removed as a factor in pricing gold.
Separately, gold has historically been considered as a hedge against inflation. With all the monetary and fiscal relief provided to offset COVID, it is natural to expect that at some point in time inflation rates will rise as more dollars chase the same or lower quantities of available goods. On the supply side, we are seeing supply chains being disrupted by COVID as well as by the trade tariff wars unleashed by the current Administration. Bottom line, gold is relatively inexpensive to fund and timely given the dynamics unfolding in the global economy.
Question 4
David, I realize that your crystal ball is no clearer than anyone else's but I need to ask you about the comments last week from Jeremy Grantham. Grantham, a renowned investment manager on Wall Street caught a lot of people's attention on Wednesday when he said the current market could be the fourth "real bubble" of his career, with the first three being Japan in 1989, the tech bubble of 2000 and the Housing Crisis in 2008.
Rick, I have been an avid student of Jeremy Grantham's work for my entire time on Wall Street and clearly the success of his firm is a reflection of his investment insights. So, when Grantham makes a statement such as he did on Wednesday 6/17 that the current stock market is "a rally without precedence" and that "this is crazy stuff" one must pause, especially when Grantham's firm has lowered its equity allocation in its flagship fund from 55% in March to 25% at the end of April.
We have discussed the extent to which the current stock market is the beneficiary of record fiscal and monetary relief efforts, that it is a bubble divorced from the underlying devastated state of the global economy. Up against that wall of worry, we have seen economic statistics come in better than expected and had markets rally hard to the upside.
So, is Jeremy Grantham right that we are now in a stock market bubble of epic proportions? In this I am reminded of the popular prescription about the definition of a duck – if it walks and quacks like a duck, it must without doubt be a duck. With that, I agree these are indeed unprecedented conditions for the stock market. Investors as always need to consider their risk tolerance and financial obligations both present and future when committing funds to the stock market. Caveat emptor.
Question 5
David, as we near the end of another episode of A Brighter Future I'd like to discuss one of our favorite topics, the Fed.
As central banks pump trillions into the world economy, investors are setting their sights on what could be the next big thing in global monetary policy: yield curve control.
What exactly is Yield Curve Control? How would the Fed and other Central Banks implement it and most importantly what impact will it have on the average retail investor?
Rick, the more extraordinary the times get, the more the Fed has to reach deep into the monetary playbook to find more ways in which to support the economy. This brings us to Yield Curve Control ("YCC") which describes a strategy of capping interest rates in which the Fed would target some longer-term rate and pledge to buy enough long-term bonds to keep the rate from rising above its target. This would be one way for the Fed to stimulate the economy if bringing short-term rates to zero is not enough.
Arguably, as long as the U.S. Dollar serves as the global reserve currency, the Fed's ability to wield YCC as a monetary tool will prove effective. However, should doubts be raised as the Dollar's ability to continue to fulfill the role of a global reserve currency, one can expect that the volatility that might normally exist within the bond market will as a result of the Fed applying YCC be transferred to the currency market instead. Having greater volatility in the currency market will pose increased risk to a number of economic participants ranging from corporates working to manage global operations to governments seeking to raise investment capital.
One observation here is that a weaker U.S. Dollar as we mentioned previously serves to enhance the contribution of S&P 500 index companies overseas operations. Also, it tends to enhance returns for emerging market economies as the price of a range of commodities and financial benchmarks is adjusted favorably. These are a few of the implications we should expect if the Fed implements YCC during the current COVID crisis.