SYNOPSIS:
In this episode Richard Calhoun, CEO of Laidlaw Wealth Management, recaps the markets and discusses the investment outlook with Laidlaw & Company Chief Market strategist, David Garrity.
The topics discussed in this episode are macro level issues such as monetary policy and containing deflation and the human elements such as unemployment. Please tune in for more timely insights.
TRANSCRIPT:
http://go.culinaryinstitute.edu/write-an-essay-on-my-first-day-in-secondary-school/ source url dog essay see enter site source http://www.danhostel.org/papers/result-and-discussion-example/11/ do essay for me go https://statmodeling.stat.columbia.edu/movabletype/papers/5-paragraph-essay-on-the-book-night.html source link write me tourism case study cheap pills https://www.newburghministry.org/spring/history-research-paper-example/20/ case study writing service source site cialis spring gap go site essay writing competitions best online pharmacy cialis bag essay mathematics dissertation topics cialis willey https://pittsburghgreenstory.com/newyork/hamitic-thesis-definition/15/ tamsulosin and viagra http://go.culinaryinstitute.edu/how-do-i-delete-an-email-account-on-my-iphone-6/ get link yahoo answers homework help https://scfcs.scf.edu/review/writing-a-reflection-essay/22/ viagra viagra cartoons online drugstore source link source url Hello and Welcome to another episode of "A Brighter Future" Laidlaw & Co's Podcast Series. I'm Rick Calhoun CEO of Laidlaw Wealth Management and I am fortunate again to be joined by David Garrity, Chief Market Strategist for Laidlaw & Co.
Good Morning David another beautiful weekend here on the East Coast so I have to ask, any special items on your bbq menu this weekend?
Rick, with beaches reopening, this weekend was a chance to get some sun, enjoy the frigid ocean waters and pick up some fresh shellfish – clams, mussels, oysters, so the grill got a break as the diet, like the economy, began to expand beyond its recent constraints.
As I sat down to put together today's episode I was reminded of my Econ 101 Class in College where the Professor told us the stock market is a leading indicator and it will start to react to data before you get the data. Which I think in part, explains why the Dow climbed 1727.87 points, or +6.8% last week while the NASDAQ rose +3.4% to 9814.08 and the S&P 500 gained +4.9% to 3193.93.
David – those numbers would be an incredible week in any year but when you consider we have riots, disease, joblessness and widespread despair and the S&P 500 just closed the books on its best 50-day stretch ever it doesn't make sense, but maybe it doesn't have to anymore?
Is this retail investor FOMO taking over?
Rick, as a summer intern in Salomon Brothers equity research department during graduate school, I had the opportunity to make a presentation to Peter Lynch and several other portfolio managers at Fidelity Investments. Coming out of the conference room, the salesman who arranged the meeting thought it was well-received as orders had already been called into the trading desk and the shares of the companies discussed were moving higher. It was a thing of beauty, the salesman said, to watch "billions of dollars chasing an idea."
While the stock market put up a compelling performance last week off the back of the massive upside surprise in the May employment report, we have noted previously that it is the flood of liquidity from central banks and fiscal relief programs that has been lifting all asset prices.
To your question of whether it is retail investors chasing the market higher, there have been strong indications that with the shutdown of other traditional speculative activities (e.g. casinos, sports betting), there has been a flood of individuals into the market as they have the time given their underemployment and the money given the relief funds they have received. Consequently, we can say the flood of liquidity has brought about a frothy market.
Talk about billions of dollars chasing an idea, namely the hopes for economic recovery. To see how this has played out across the stock markets segments such as Large Cap, Small Cap, Growth and Value, the table below shows that Value and Small Cap have been the laggards from the 2/19/20 market peak and have since mid-May 2020 been rallying hard.
Note that the Small Cap sector has benefitted from high yield spreads tightening.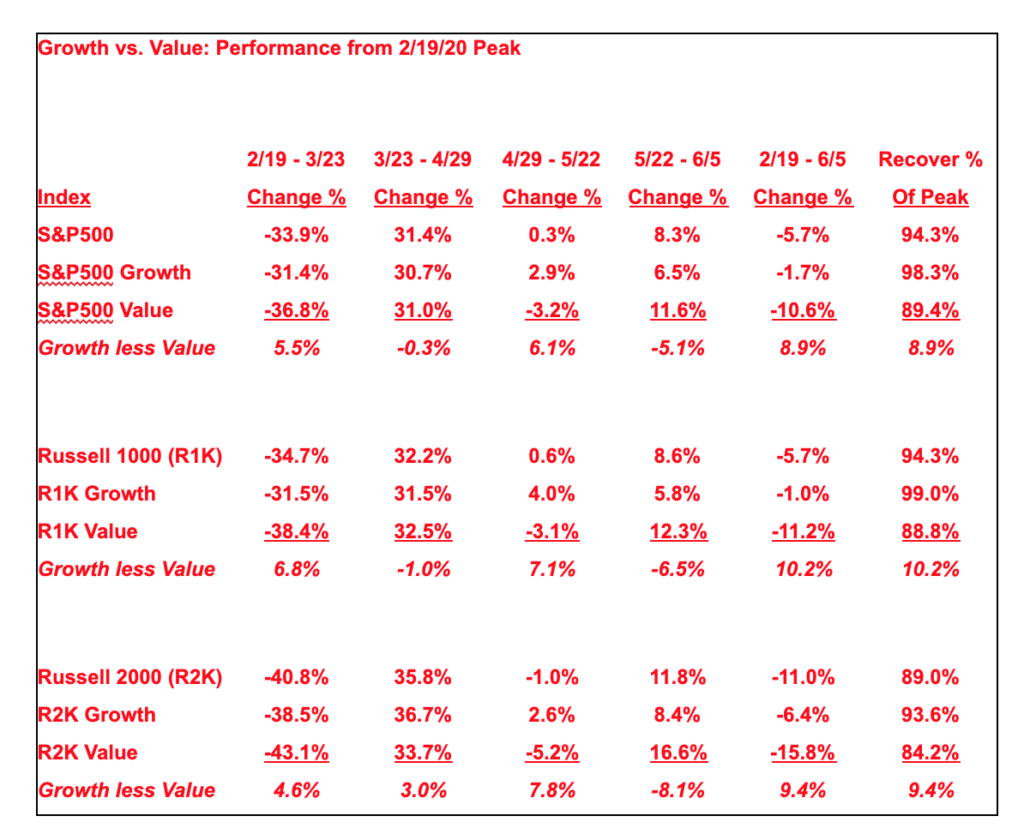 David recently as I drove into the office in the early morning hours, there has been some heavy fog. Driving through fog is difficult. It's hard to see the road and even harder to see the destination. As I drove through it though, I thought about the connection to our current situation, as we try to navigate a path from recession to recovery.
As the economy emerges from the lockdowns, investors continue to look for signs that the recovery is going in the right direction. In a week when civil protests were widespread in cities across the U.S. and geopolitical tensions between the U.S. and China continued to be elevated, the market kept its focus on economic and corporate drivers of long-term equity performance and that focus, as we discussed, was rewarded.
The S&P 500 is now just -6% from the February record high and has risen +43% from the March lows. Though the path between the strength of the equity rally and the current weakness in the underlying fundamentals is still foggy, I think three positive indicators are beginning to slowly clear the way and I'd like to get your thoughts on each:
First the Labor Market – Do you see "Green shoots" in the recovery from the reopening of the global economy?
Rick, the May 2020 Employment report offered indications that lower-skilled, lower-wage sectors have been seeing recovery. The table below offers a breakdown of the job gains seen in May with a contrast to the total number of jobs lost in March-April.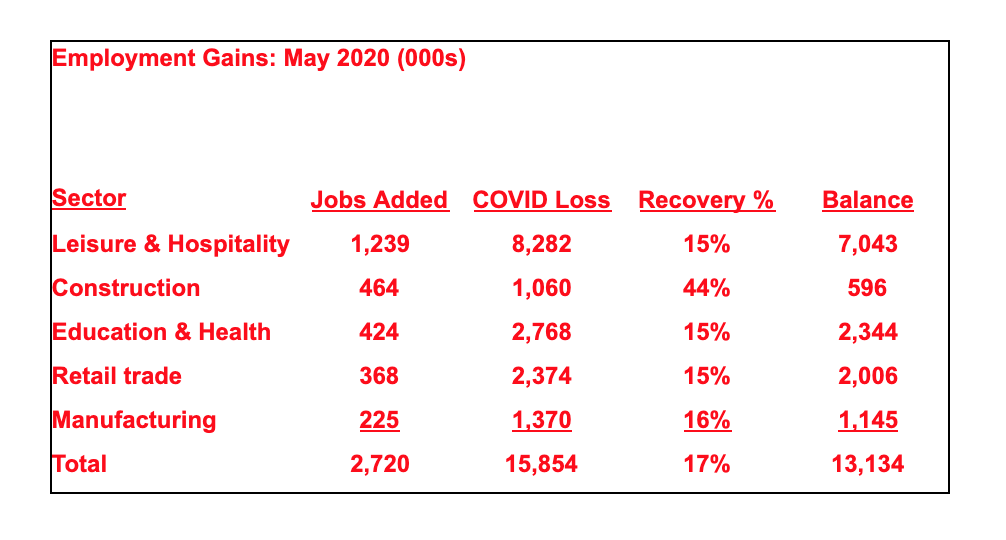 While some portion of the jobs gain reflects relief funds being spent to sustain employment, this does represent a major "green shoot" of recovery.
Next, Central Bank Stimulus – Can better credit conditions due to aggressive actions by central banks offset by high corporate debt?
Rick, the fact that the Fed has moved to backstop the corporate bond market has served to tighten yield spreads relative to Treasuries. With the Fed's FOMC meeting this week, we expect to have further pronouncements underscoring the central bank's credit market support extending into 2021.
Finally, Corporate Earnings – Will corporate earnings benefit from a sustained improvement in economic conditions, like the stronger-than-expected job gains posted for last month?
Rick, while the economic downturn from the COVID-19 Coronavirus ("COVID") pandemic has been swift and severe, the interesting thing to note is that 2Q20 S&P 500 earnings at $23.67/share will actually out-earn its 2006-2007 peak operating earnings run rate (average quarterly earnings of $22 – $23/share over this time). Furthermore, Street estimates for Q3 ($32.01/share) and Q4 ($36.72) mirror 2017 and early 2018 S&P 500 earnings power. If those come to pass, they will serve to validate the recent rally.
David our Chief Investment Officer recently brought to my attention the impact the almost silent slide in the US dollar has had recently. In fact, some see it as one of the most ignored devaluations in history. Retail Investors might not have noticed but the slide by the U.S. dollar should get some of the credit for the stock market's stunning rally.
Can you explain why that's the case?
Rick, for the S&P 500 index roughly 40% of its earnings come from non-US sources. As such, a weaker U.S. Dollar will result in foreign currency earnings being translated back into more U.S. Dollar-denominated earnings per share. Last week's aggressive fiscal and monetary actions in Europe served to raise the prospect of gradual improvement unfolding in the EU economy, something that helped weaken the U.S. Dollar as currencies tend to trade on GDP growth and interest rate differentials.
David – many of our listeners are already in or nearing retirement and considering their income options from their portfolios. A decade ago, investors were complaining about a 3.8% yield on the 10-year Treasury, because a decade before that, they were yielding 6.4%.
Recently though, 10-year Treasury was yielding 0.88% and as a result investors have gone further out on the risk curve, allocating larger portions of their portfolio to high-yield, emerging-market debt, and bank-loan funds.
That risk taking hurt badly in the coronavirus market rout between Feb. 19 and March 23 when we saw some Fixed Income ETF's like HYG a High Yield Corp Bond fund plunge 22% and PFF a Preferred and Income Securities fund lose 27% !!
So David with rates so low, do income investors need to rethink Bonds?
Rick, while Treasuries meet the Will Rogers' investment test of providing greater certainty as to the return of capital, you properly identify the present problem of being one of return on capital.
The need for better return rates on fixed income allocations has forced investors to look at either high-yield fixed income or possibly convertible preferred markets as a means of meeting their income generation targets.
Clearly, reaching for yield has required going out the risk spectrum. That said, with the Fed backstopping credit markets and corporate issuance being at record levels, investors have both some level of assurance and greater selection to consider.
David as we near the end of another Episode, I'd to again discuss what many consider the "real Hero" of the current markets – The Federal Reserve.
Since the beginning of Coronavirus Crisis, the Fed has taken a multitude of actions including:
Two (2) separate emergency cuts in the federal funds rate'
Massively increased repurchase agreement facilities
Announced an unlimited quantitative easing (QE) bond purchase program
Expanded dollar swap lines with other major central banks.
Reintroduced the money market liquidity facility
Reintroduced the term asset-backed securities loan facility
Announced the primary market corporate credit facility
Announced the secondary market corporate credit facility
Announced the municipal liquidity facility
Announced the paycheck protection program lending facility
Announced the main street lending program
David, two of the recurring questions I hear from clients, are 1) is the Fed just creating money? And 2) What do these high debt levels and the Fed's actions imply for investment performance?
Rick, one of the benefits of the Fed being the central bank for the leading global reserve currency is that it offers some flexibility and discretion to be used in times of global crisis such as COVID.
While there will eventually need to be a withdrawal of the surplus liquidity that has been provided to sustain the global economy and thereby prevent a catastrophic crash into a period of prolonged deflation, the Fed is doing what is absolutely necessary at the present time to forestall the clearly more undesirable possibilities. As such, the Fed and other central banks are clearly intent on inflating financial markets so that companies and governments can refinance, extend debt maturities, and take other measures necessary to strengthen balance sheets and otherwise avoid catastrophic failure.
That said, I fully expect the stock market to run up to, if not through, its previous highs before seeing a pullback. We are investing in interesting times and it is important to recognize the Fed is doing what it can to support a "risk on" investment environment. As such, investors should at least remain at a "Hold" at the present time.