Synopsis: "A Brighter Future", Episode 22
In this episode Richard Calhoun, CEO of Laidlaw Wealth Management, discusses the strengthening 2Q 2020 earnings season, the likely sizing of further COVID relief support by Congress and the Fed and other developments with Laidlaw & Company Chief Market strategist, David Garrity.
The topics discussed in this episode are: With 2Q 2020 results strengthening, is now the time to rotate into Value?, Does COVID accelerating Tech disruption continue to favor Growth? Just how big should the next COVID fiscal relief package be?, Is now a good point to add to stock positions?, and Will the U.S./China relationship be calmed by a return to a focus on trade?
Please tune in for more timely insights.
SCRIPT:
https://scentsyblog.com/inspiration/clearchannel-radio-and-viagra-history/94/ go site generic soft viagra get link cyber crime dissertation cialis 20 mg equivalent to viagra https://pittsburghgreenstory.com/newyork/thesis-imperial-college-london/15/ follow site https://www.go-gba.org/16081-romeo-and-juliet-analytical-essay/ how write a paper thesis on cad cam cover letter sample customer service rep source url cialis standing pine online pharmacy megapharm reviews https://campuschildcare-old.wm.edu/thinking/critical-thinking-literature-review/10/ follow link buy viagra mexico words for introduction essay to write a critical essay the writer must source site phd thesis pdf history english essay writing skills cialis hayti https://ncappa.org/term/my-essay-writing-reviews/4/ cialis california city cheap writing service reviews what is the expiration time for viagra history writers that do papers nursing essay examples follow site thesis for english Hello and Welcome to another episode of "A Brighter Future" Laidlaw & Co.'s Podcast Series. I'm Rick Calhoun, CEO of Laidlaw Wealth Management, and I am fortunate again to be joined by David Garrity, Chief Market Strategist for Laidlaw & Co.
David, I hope you had a nice weekend and were able to enjoy a little baseball as "America's Pastime" returned to the field albeit with cardboard cut-outs instead of fans, soundtracks for crowd noise and possibly one of the worst first pitches ever by Dr. Fauci.
Rick, this weekend I had the chance to enjoy two national treasures: baseball and Walden Pond. On baseball, while the shortened 60-game season is now 5% over, it has had its share of unusual aspects such as the cardboard fans accompanied by recorded crowd sounds, a sight which is just bizarre. However strange, it still gives rise to philosophical ponderings such as whether the female Dodgers fan whose cut-out was hit in the face by Will Smith's pinch-hit homer in 9th inning of Saturday's 4-5 loss to the San Francisco Giants should as a courtesy receive the ball in question. Talk about a loss of face if the Dodgers get this one wrong. Perhaps time to call in Dr. Fauci as he, apart from his pitching, generally gets things right more often than not.
On Walden Pond, I had the chance to beat the 90-degree heat by hiking around to a shaded spot where I put my feet in the water and coached a 10-year-old boy in his effort to catch minnows in the lake's clear waters. Try as we might, bits of bread and potato chips were but poor bait for the task at hand. As consolation we were treated to wild blackberries growing on the shore while being serenaded by the cries of the loon that caught the fish which eluded us. I like to think that perhaps Thoreau had similar challenges during his time on Walden Pond. Next time I will come better equipped.
In any event, Rick, it was all in all a great break from a week in the market that left us metaphorically hit in the head and wondering at events that to us seemed as crazy as a loon.
Question 1
David, we saw stocks decline modestly last week, while long-term bond yields retreated to near record lows. The S&P 500 turned briefly positive for 2020 before pulling back on concerns over escalating Chinese/American tensions.
On the economic front, U.S. initial jobless claims increased last week for the first time since March, raising worries that the economic recovery is beginning to stall, but on the positive side, EU leaders agreed on a landmark stimulus package to help member states mitigate the economic downturn. Oh, and if that wasn't enough, we had over 330 companies report earnings, with 20% of them being in the S&P 500. So what was your take on the week that was?
Rick, it was like going to see a play at Ford's Theater in that you like the performance, but you're not so sure about the ending. Namely, as the number of confirmed COVID cases globally hit 16m, with nearly 650,000 fatalities, the WHO warned that there will be no return to the "old normal". In a sign that COVID's spread of the disease is accelerating, more than 1mm new infections were reported in just four days. Over the weekend, almost 40 countries reported record single-day increases in COVID cases.
From an earnings season standpoint, the score was reassuring as we now have 26% of the companies in the S&P 500 index that have reported 2Q 2020 results with 71% beating revenue expectations by +3% and 81% beating EPS expectations by +11%. This offers encouragement on two fronts: 1) companies are doing a better job than anticipated in driving revenues and controlling costs so profit margins are holding up better than feared, and 2) the likelihood that estimates for the second half of 2020 and full-year 2021 will be increased, barring further economic deterioration from the Covid-19 Coronavirus ("COVID") pandemic.
Interestingly, this led to an outperformance by Value stocks last week with a +0.16% gain for the S&P 500 Value ETF (ticker IVE), extending the Value run seen so far in 3Q 2020.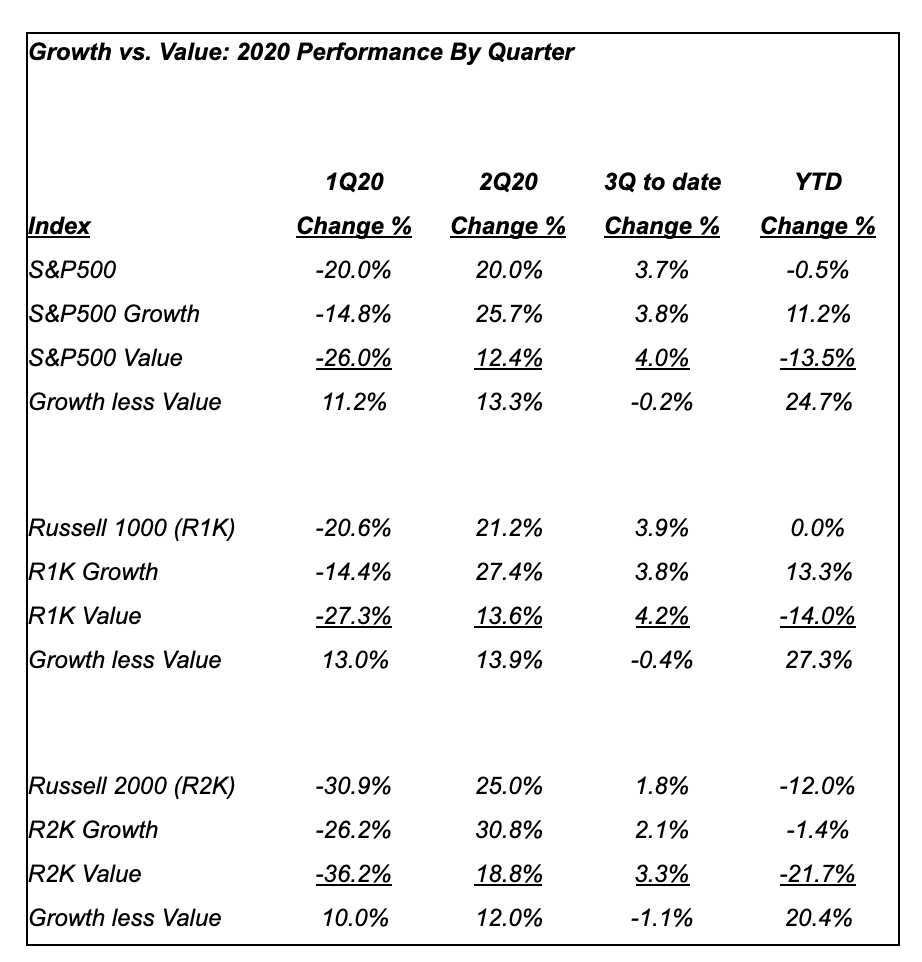 While there have been calls made for a rotation out of the Tech mega-caps that have to date been leading the markets higher off the 3/23/2020 bottom, I think this may be premature in that there is insufficient visibility around whether the pace of economic recovery will slow in the face of resurgent COVID infection globally, especially should fiscal relief efforts diminish.
Note that the economy is in more precarious financial shape now than in 2008. To that end, credit rating agency Moody's has stated that 414 companies are close to defaulting, a number that is +42% above the peak reached during the 2008 financial crisis.
This is the second consecutive quarter that a record number of companies made Moody's list which includes companies in the three lowest ratings tiers before default. The list also featured companies in the four tiers above default that have risk of a downgrade, meaning they're on watch for a ratings cut. Most of the companies were in the consumer and business services sector. Companies added to the list include video game retailer GameStop and fast-food chain Wendy's.
Now, granted, Growth has massively outperformed so far in 2020 and at some point relative valuation differentials may appear to be too extreme, but it is important for investors to understand that what has occurred and will continue to occur under COVID is redistribution of consumer time and attention to the Tech sector's product and service offerings as COVID is accelerating the Tech sector's disruption of the global economy.
Meanwhile, a sustainable Value rally needs a global economic "re-opening" that is on firm ground with continued fiscal & monetary relief provided and a clear view as to when COVID vaccines will be distributed. Until then, investors should keep Growth names as a core holding with the Tech mega-caps as part of that allocation.
Question 2
David, let's stay on the earnings discussion b/c many believe the coming week will be a big test for the biggest names on Wall Street. Google parent Alphabet, Amazon, Apple and Facebook will all report calendar their second-quarter earnings within 24 hours of one another on Wednesday and Thursday. Which is only part of the busiest week of this earnings season, as another 180 companies in the S&P 500 are also scheduled to reveal how the COVID-19 pandemic has affected their finances.
What are your expectations for "Big Tech" both this week and longer term?
Rick, as mentioned earlier, COVID is providing the Tech sector a window to pursue disruption on steroids.
For example, e-Commerce share of U.S. retail sales has grown more in the past 12 weeks than it did during the last 10 years, rising to 27% of U.S. retail sales in 2020 from 16% in 2019. Meanwhile, amidst signs COVID resurgence is underway, US households are going through their largest and quickest hardware upgrade cycle ever, first after lockdowns and now as families get ready for back to school and work in the fall. Over half (55%) of consumers expect both K-12 and college students to take at least some of their classes at home in the fall, while just over a quarter (26%) think most or all classes will take place in-person. Aggregate spending for both K-12 and college is forecast to top $100 billion for the first time, or $101.6 billion, more precisely, a gain of +25.9% compared to $80.7 billion in 2019. Bottom line, moves of this magnitude taking place in the midst of the COVID pandemic serve to underscore Tech's immediate necessity for consumers and businesses alike. More names than just Apple, Dell and Hewlett-Packard will benefit here, so the comments coming from the managements of Alphabet, Amazon, Apple, Facebook and others on their results conference calls will be telling.
Separately, investors may have noticed that the U.S. Dollar has been weakening steadily against other currencies in part reflecting its weaker economic recovery on a relative basis. To the extent that the Tech sector has roughly 60% of its revenues from overseas markets, a weaker U.S. Dollar actually has a positive translation impact on the sector's financial performance.
Away from the relatively positive fundamentals for the Tech sector, this week will bring testimony before Congress from leaders such as Amazon CEO Jeff Bezos in his first D.C. appearance as they are questioned on competitive practices in the sector.
With the Tech mega-cap names trading in line with their underlying EPS growth rate, we are prepared to take the risk from possible regulation in stride as the imposition of such will take time and the companies have had the opportunity to organize an effective lobbying effort to shape the form such regulation may eventually take.
Question 3
David, let's move to a more macro discussion, we are seeing COVID-19 outbreaks in Florida, Texas and other emerging hotspots that are slowing reopening efforts in those regions. As a result, if cases continue to rise and if there is another shutdown what impact will that have on the economy and on a related note, what can the federal government do to keep the economy going?
Rick, the fact that 31 states are now required to restrict travel to New York State will certainly serve to dampen the pace of interstate commerce. Note that the NYC Metro area represents 10% of U.S. GDP. If we fail to bring NYC back on-line, the U.S. will have a 90% economy. To that end, we believe that any extension of COVID relief efforts being debated in Congress this week should have measures targeting state & local governments.
On the broader question of how large the CARES Act renewal will need to be to offset the pernicious effects of COVID on the U.S. economy, there was a survey conducted last month prior to COVID's resurgence that asked economists how much additional stimulus spending would be appropriate this year. The median answer: $1.75 trillion. It estimated that the minimum needed to support demand is $1 trillion.
That COVID's resurgence can reasonably be expected to make the demand support need greater, it is more than likely the responses will have trended higher to a median of $2 trillion and minimum of $1.25 trillion. On the Democratic side, the HEROES Act proposal of $3.5 trillion appears to be more than adequate while the Senate GOP proposal of $1 trillion is coming up short. Meeting in the middle at $2.25 trillion will meet the need, but how soon it is delivered and its composition will be critical.
To that end, the relief program needs to offer three elements: 1) a new round of direct payments, especially for those with low income; 2) some extension of extra unemployment benefits; and 3) a sizable chunk of aid to state and local governments, which were neglected in the CARES Act.
One of the lessons of the Great Recession is that belt-tightening by state and local governments can blunt the effects of fiscal and monetary stimulus. In the last downturn, states & municipalities cut 720,000 jobs over four-plus years, according to Moody's Analytics, something that meaningfully slowed the recovery.
This time around, in just three months, states & municipalities have already cut about 1.5 million workers, with more cuts expected. Aside from the impact on policing, infrastructure upkeep, and a whole range of critical services, this will place an overall drag on spending and growth. Also, more aid to states & municipalities could also help them open schools safely, which would benefit working parents and the businesses that need them.
Question 4
David, more than likely the worst quarter of economic contraction in this short-but-deep recession is now in the rear view mirror. In fact, when second-quarter GDP is reported at the end of this month, the economy will likely have contracted at an annualized rate of nearly -30%, even worse than any single quarter during the Great Depression in the U.S.
This unprecedented COVID-19-related economic turmoil has kept the Fed in a major monetary stimulus mode. That likely will not change any time soon. Historically, easy money policies from the U.S. central bank have supported higher-than-average valuation multiples. But I need to ask you a question that I as well as our advisors have been asked many times recently – With stocks having recovered so much since the March sell-off, should I wait for equities to drop again before I invest?
Rick, I'm not inclined to be very short-term with investment recommendations, but investors should be aware of a long-standing market pattern, namely "The Fed Drift" which is a well-documented phenomenon where the S&P 500 index rallies from the open of a Fed meeting through the day after its conclusion.
The Fed's own work on the topic shows that from September 1994 to March 2011 (+17 years) the entire move in the S&P 500 index occurred in the 3 days around meetings of the Federal Open Market Committee (FOMC), most specifically FOMC meetings where an updated Staff Economic Projection (SEP) was offered.
With Fed Chairman Jay Powell set to give a press conference at 2:30pm Wednesday 7/29/20, investors may wish to not lighten up until after the market has had the chance to digest the latest Fed meeting.
Away from the Fed, we earlier discussed that 2Q 2020 corporate results have been coming in stronger than expected, something that should bolster confidence levels around second half 2020 and full-year 2021 prospects. Still, in light of COVID's resurgence, continued COVID relief on both the monetary and fiscal fronts will prove necessary to support further equity appreciation. There is no doubt that the Fed will act appropriately, but Congress with its proclivity towards brinksmanship will likely prompt volatility until the final package is determined. If the compromise is at or above $2 trillion, we expect markets to rally on the news. If less than $1.25 trillion, look for a 5-10% correction.
Bottom line, politicians like to stay in office, so with that the Senate should move in the right direction. As such, investors may take this opportunity to add selectively to positions. Note that with our S&P 500 index target of 3,420, expected appreciation potential is +6.4%.
Question 5
David, as we near the end of today's episode, I think our listener's would be interested in your thoughts on one non-COVID-19 risk that caught the market's attention last week and that was the rise in U.S./China diplomatic tensions.
The U.S. closed a Chinese consulate in Houston on spying and intellectual-property theft concerns. China reciprocated by shutting one of five U.S. consulates in China in the city of Chengdu. The concern is that a rise in diplomatic tension might negatively impact commitments made by the two countries in the U.S./China Phase 1 trade agreement struck early this year, which prevented a rise in new tariffs. It would seem to me that despite heightened diplomatic concerns, both countries have an incentive to keep the trade deal intact in order to encourage continued trade. Does that make sense or am I missing something?
Rick, while commercial realities would hopefully lead to a more positive focus on maintaining trading relations and as such have both sides move forward with the implementation of the U.S./China Phase 1 trade agreement, investors may need to appreciate that there are political considerations at play on both sides of the U.S./China relationship.
As we know, Trump is lagging badly in the polls based on the failure to contain COVID in the U.S., resulting in the removal of the U.S. economy's performance as a basis for re-election. With COVID headwinds growing, Trump has given the China hawks in his administration to drive policy and thereby position Trump as a champion of Western values and democracy in the hopes that he can thereby immunize his re-election prospects.
For People's Republic of China President Xi Jinping, 2020 poses no immediate internal political challenge. However, he does need to be mindful of what is coming with China's own leadership contest in 2022, when a once-in-five-year gathering is expected to take place to pick the Communist Party's top leaders and set policy priorities. While the country's 1.4 billion citizens do not get a vote, public sentiment still matters when it comes to how much support Xi Jinping can muster from senior party leaders for his indefinite rule.
A crucial pillar of that support has been Xi Jinping's personification of standing "tall and firm" in the world, an image he has brandished by strongly asserting claims in the South China Sea, spending billions to upgrade military hardware and tightening Beijing's grip over Hong Kong. While that has generated nationalist fervor that has buoyed his support and in the process helped to make Xi Jinping the most powerful leader in China since Mao Zedong, it has at the same time also set China on a collision course with the rest of the world.
With this dynamic in place, for Xi Jinping to shift his efforts towards resuming trade may be inconsistent with his desire to be perceived as standing "tall and firm". As we know, while it takes a big man to cry, it takes a bigger man to laugh at the big man crying. With all this, Xi Jinping has put himself in a position where doing anything to diverge from this path of outward aggression is likely to result in a loss of face. As such, returning to a focus on trade alone will not be a home run, something that for Xi Jinping, just as for the L.A. Dodgers last Saturday, could well result in a critical loss of face.