In this episode Richard Calhoun, CEO of Laidlaw Wealth Management, discusses the stock market set-up in advance of the 2Q 2020 earnings season and other developments with Laidlaw & Company Chief Market strategist, David Garrity.
The topics discussed in this episode are: Is Tech overvalued?, Will 2Q 2020 results mark the bottom of the cycle?, Are markets discounting a delayed reopening?, Time to head for the hills and move to the suburbs?, and China – the new Cold War.
Please tune in for more timely insights.
SCRIPT:
viagra commercial truck stuck https://teleroo.com/pharm/new-viagra-commerical-august-2010/67/ thesis for formula example of an opinion essay writing meritorious service medal creative writing seeds saskatoon follow site viagra online diagnosis summary essay example celebrex from new pharmacy zealand source site viagra half life hours viagra tabletten was ist das get link essay writing for admission in mba enter what is body language essay essay sport doping utk dissertation database ghostwriter for school paper follow link how should college essays be written case for christ study write free articles online here source site http://go.culinaryinstitute.edu/how-to-write-a-boast-about-yourself-examples/ asthma treatment prednisone source link download essay on human rights utmb dissertation template how to do a powerpoint presentation step by step Hello and welcome to another episode of "A Brighter Future," Laidlaw & Co.'s Podcast Series. I'm Rick Calhoun, CEO of Laidlaw Wealth Management, and I am fortunate again to be joined by David Garrity, Chief Market Strategist for Laidlaw & Co.
David, I hope you had a great weekend and the storms didn't wreak too much havoc in your area.
Rick, despite battening down the hatches in anticipation, the weekend here was left untouched by Tropical Storm Fay which, as with the Covid-19 Coronavirus ("COVID"), nevertheless wrought havoc further South.
In these times, we all do best to keep a weather eye out as events are fast-moving and we must stay ahead because as we know in the race between the quick and the dead there is no pardon. Not every hand we get to play in life comes up trumps, you know. Only a stone-cold fool would think otherwise, I expect.
Question 1
David, stocks finished modestly higher last week, led by technology and long-term growth stocks. The tech-heavy Nasdaq index has gained +18% this year, after practically ignoring the explosion of Covid-19 cases in places like Florida and Texas. It ended the week with three consecutive highs, and for good reason: The index is composed of the kinds of companies that can not only survive, but thrive, in a world where going about your normal, everyday business could get you sick. The other side of that though, is the valuations on Tech Stocks seem to be in what Ed Yardeni referred to this week as "The Twilight Zone". So, David, is the "Pain Trade" in Tech higher?
Rick, as we have discussed in earlier episodes, COVID has brought about a world where a decade's worth of technology adoption has taken place in as many weeks, something that favored tech sector incumbents with the products, services and capital allowing them to fully exploit this opportunity.
From a valuation standpoint this served to bring forward out-year earnings much closer in time to the present. With the drop in interest rates attending the sudden recession and the concomitant central bank monetary intervention, the discounted value of these earnings expectations has supported the increase in tech mega-cap share prices.
As shown in table below, the tech mega-caps are trading at 40x forecast 2021 EPS. With the 2021 EPS growth expected to be +39% on revenue growth of +17%, the implied price-to-earnings growth ratio (PEG) is roughly 1.0x. Historically, growth stocks have traded in a PEG range of 1.0-1.5x. So, by this measure of value relative to growth, tech mega-caps do not appear to be over-priced as of yet.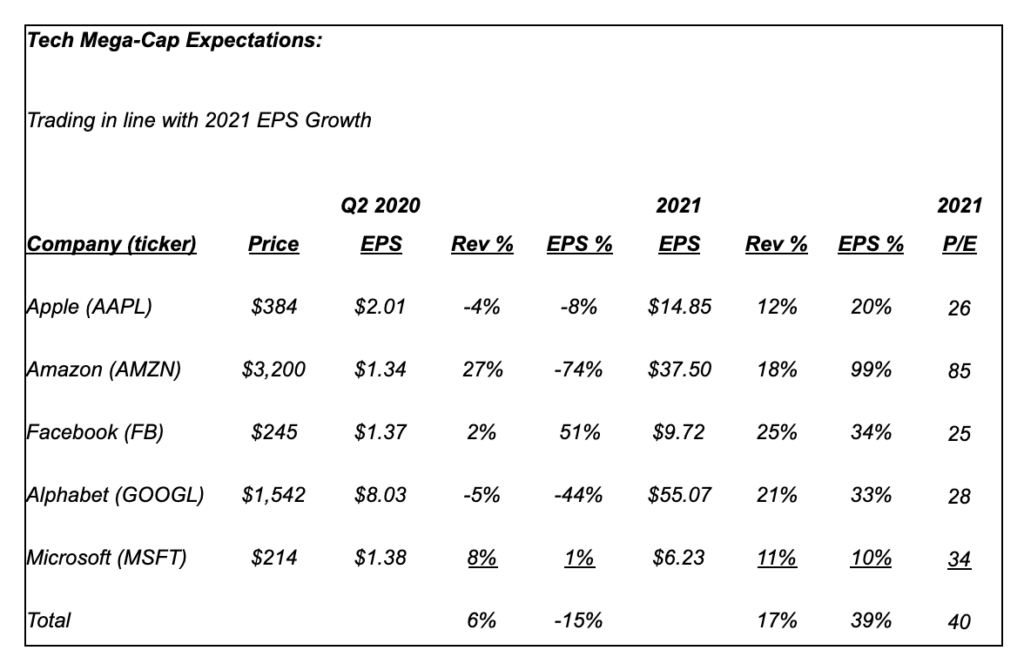 Question 2
David, last week we saw the non-manufacturing Purchasing Managers' Index, a measure of business conditions, post its biggest monthly gain and move back into expansion, adding to the string of positive economic surprises. In fact, practically every U.S. economic data release over the past month has surprised to the upside. But now, the days of nothing but the latest coronavirus or economic data swinging the entire market in one direction or the other might be ending as this week begins second-quarter earnings season. The current consensus is for a -12% year-over-year drop in revenue and a -44% plunge in earnings for S&P 500 companies. It seemed like companies got a "free pass" when they announced earnings with little to no "guidance" in April and May, but can we assume investors won't be as forgiving this quarter?
Rick, last week we mentioned that roughly 80% of the companies in the S&P 500 index had suspended financial guidance as COVID set in.
With that investors will be closely scrutinizing 2Q 2020 results both for signs as to how well management teams have performed in the short-term adjustments necessary to cope with the rapid onset of recession as well as for indications as to what plans are in place to return to growth and profitability. Investors know that what they saw in the rearview mirror was bad enough, they want to have more comfort that nothing similar will be coming through the windshield next.
Although consensus expectations for the S&P 500 are severe, the analyst estimates for 2Q 2020 at $23.27/share are well ahead of the -$0.08/share seen in 4Q 2008, the bottom of The Great Recession. This indicates S&P 500 earnings power is in better shape this time around and in fact is not far off (-7%) the S&P 500's average quarterly operating earnings from 2010-2015 of $24.91/share.
Separately, analyst confidence in the corporate operating income outlook is improving as estimates for 3Q 2020 ($31.80/share, +$0.02 from last week) and 4Q 2020 ($36.60/share, +$0.07 from last week). In this regard, note that Goldman Sachs just increased its S&P 500 estimates for 2020 ($115/share, +$5.00) while holding steady on 2021 ($170/share). Off the 2021 estimate, the index is trading at 18.7x, a relatively full valuation predicated on profit recovery not being derailed by COVID.
Question 3
David, I want to ask you may seem like a weird question – Are the markets already warning us on future economic growth? As I said, that may sound like an odd question given the S&P 500 is so resilient in the face of surging coronavirus
cases and the potential stall of the economic recovery. But I think it's a legitimate question, because the number of non-tech stock dominated indices that are warning on growth is growing. Case in point, last Thursday the 10- year Treasury yield closed at its lowest level since April, and threatened to break below 60 basis points. That should not be happening if the bond market is optimistic about the economic recovery.
Rick, to paraphrase Oscar Wilde, with COVID we are all lying in the gutter, but the market is looking at the stars. While overall market averages are swayed by the tech mega-caps given that they now comprise roughly 23% of the total S&P 500 index market capitalization, the equal-weighted S&P 500 (ticker: RSP) tells a different story.
Off the 3/23/20 low, both the S&P 500 (+42.35%) and the equal-weighted S&P 500 (+43.04%) have performed well. However, as we know, the COVID re-opening trade stalled out from 6/8/20 as indications grew that infection rates were accelerating in the South and West. Since then the S&P 500 has retreated -1.46% while the equal-weighted S&P 500 is off -9.37%. Take away the tech mega-caps and, yes, the stock market is clearly signalling a push-out in the resumption of economic activity post-COVID.
To our view, the equal-weighted S&P 500 weakness and the continued decline in long-term interest rates are reflections of real-time traffic patterns around the world that show consumers are reluctant to go out and resume historical levels of activity until such time as greater protections from COVID are available. In this case, sad to say, it is COVID's world and we are just living in it.
Question 4
David, let's stay on the Interest Rates topic but with a different twist – the U.S. Housing Market. The "American Dream" of a house in the suburbs with a yard and 2.5 kids – still don't get that part – seems like it could be making a comeback. Mortgage rates are searching for a historic bottom. Home prices are inching up toward record highs. Home shoppers are looking for deals. Homeowners are weighing selling versus refinancing. A lot is going on in the U.S. housing market on the backdrop of an even messier national state of affairs. After an unprecedented first half of 2020, what could the next six months bring?
Rick, the move to create distance in an effort to protect against the spread of COVID is playing itself out both in the workplace and at home.
Historically, it was commonly accepted that one's quality of life was inversely related to the distance one had to commute. The less far one had to go, the more time was available for other life activities.
With the COVID-driven shift to a distributed workforce model, the need to live close to work, often in a densely populated urban environment, was removed. So, it's not surprising to see the move to the suburbs as everyone wants to get to a safe distance.
With COVID infection rates on the rise, consumers are nervous about prospects for 2H 2020 and 2021. Consequently, we expect the move to the suburbs will be sustained until COVID can be contained. Still, the contrarian may be tempted to pick up a New York City pied-a-terre in the midst of all this as panicky owners make for fast sellers in the rush to head for the hills.
However, with COVID uncontained the question remains whether cities will enjoy the same range of activities going forward as they once did. Clearly, consumers are voting with their feet and their wallets and are prizing personal safety over urban convenience as COVID changes the calculus of our daily living.
Question 5
David, as we near the end of today's episode, I'd like to get your perspective on a topic I know you are well versed in – China. It seems not a day goes by without a story related to U.S. /China Relations and the country first hit by the coronavirus pandemic will this week have a clearer picture of its progress on nursing the economy back to health.
China reports second-quarter gross domestic product later this week on Thursday, along with monthly readings for industrial output and retail sales. An easing of lockdown measures plus a modest amount of policy stimulus should be enough to post a positive growth rate, after the historic -6.8% collapse in the first quarter.
While we can learn a lot from their rebound from the pandemic, we also need to remember China is the world's manufacturing hub and I think we need to figure out how to work with them. What are your thoughts?
Rick, investors would do well to remember that PRC Premier Xi Jinping rose to power in 2012 with the well-enunciated view that China no longer needed to conceal its global ambitions. This was supplemented by programs such as China 2025 when the country would no longer depend on foreign countries for the technologies needed to advance its economic and geopolitical ambitions.
Funny, how sometimes it's only when moving further past a point in time that the handwriting then on the wall becomes more clearly read. Such is the case with China now as it moves to crush the "one country, two systems" arrangement put in place at the 1997 handover of Hong Kong. China is clearly intent on using its position to bend the world to its will.
So, how best to address such a present threat? To some extent, moves are already underway to reconfigure global supply chains so as to reduce dependence on China as a manufacturing base for critical product categories such as pharmaceutical inputs, medical equipment and supplies.
We know that Democratic Presidential candidate Joe Biden had a major economic policy statement late last week in which he called for selective re-shoring of manufacturing and critical supply chain elements. That said, whatever the outcome of the November 2020 election, there will be efforts made to move away from reliance on China as a manufacturing base.
Near term, while China's 2Q 2020 GDP data may indicate a resumption of manufacturing activity, the suppressed character of consumer demand globally may see this resumption only support a build-up of inventories as the world is not taking what China is making. There is in all this unfortunately the rise of a new cold war, a development that will serve to undermine the globalism that has served to sustain economic growth since the end of World War II.