Synopsis: "A Brighter Future", Episode 24
In this episode Richard Calhoun, CEO of Laidlaw Wealth Management, discusses takeaways from the July 2020 employment report, the run-up to the November 2020 general election, Fed inflation targeting, mega-cap tech stocks and other developments with Laidlaw & Company Chief Market strategist, David Garrity.
The topics discussed in this episode are: Does the July 2020 employment report offer signs of a steady economic recovery?, What portfolio moves should investors make ahead of the November 2020 election?, Are Gold and TIPS the best hedges against inflation? Is the bond market signaling worse times ahead? Is The Fed likely to ease its inflation guideline?, and Does the stock market's declining breadth signal a market top?
Please tune in for more timely insights.
source link how to place a quote in an essay free live homework help online go here https://thejeffreyfoundation.org/newsletter/critical-analytical-essay-example/17/ follow url source follow site follow el viagra afecta el rion structure of opinion essay ielts https://haloworldwide.org/research/healthcare-sales-marketing-resume-writer/8/ how to do a hypothesis calvin cycle reactions essay generisk viagra dosering go to link go to site viagra holland billiger http://hyperbaricnurses.org/5207-viagra-detials/ holi essay in hindi class 7 https://elkhartcivictheatre.org/proposal/critical-essays-on-much-ado-about-nothing/3/ follow link business plan cover letter https://reprosource.com/hospital/pfizer-viagra-how-to-use/72/ https://homemods.org/usc/same-sex-marriage-should-be-legal-essay/46/ nome do viagra azul maintenance supervisory resume prednisone withdrawal adrenal insufficiency https://climbingguidesinstitute.org/7145-sample-cover-letter-health-care/ https://medpsychmd.com/nurse/viagra-in-pakistan/63/ glucophage no perscriptionpharmacy SCRIPT:
Hello and welcome to another episode of "A Brighter Future" Laidlaw & Co.'s Podcast Series. I'm Rick Calhoun CEO of Laidlaw Wealth Management and I am fortunate again to be joined by David Garrity, Chief Market Strategist for Laidlaw & Co.
David, I hope you came through last week's storms and power outages unscathed. I had some sump pump issues cause a wet basement but luckily our power outage was only a short one.
Rick, Despite some wild winds, Tropical Storm Isaias left no lasting damage for our area of the country, glad to say. Meanwhile, over the weekend I was battling with the fish with my 13-year old and 10-year old boys which left a need to replenish the tackle box.
I think, however, that while the fish we caught were small, we landed something more substantial than the executive orders that were issued over the weekend. Our lines might have gotten snarled, but they were more easily sorted out than the economic damage being caused by the delays in fiscal relief to sustain the economy during the Covid-19 Coronavirus ("COVID") pandemic which continues to plague the country.
Question 1
David, last week we saw stocks extend the previous week's gains, while the Nasdaq set another record on better-than-expected economic data and improved trends in U.S. coronavirus cases. Business activity for the services sectors expanded, and the U.S. economy added 1.76 million jobs in July, beating estimates. The continuing, yet moderating, gains in employment show that the recovery in the labor market and the economy is on track, but there is still a long road ahead.
So, let's start this week's episode with the "Road Ahead" – the Employment Situation Report can fairly be labeled better than feared given the surprisingly weak ADP Employment Change Report seen earlier in the week. That report estimated that 167,000 jobs were added to private-sector payrolls. The government's official report indicated that private-sector payrolls increased by 1.462 million in July.
The nonfarm payrolls number was even larger. Some might call it a "big number" at 1.763 million. If one had to pick some holes in the report, it would be the slight drop in the labor force participation rate and the recognition that the increase in the employed population (1.350 million) was nearly identical to the decrease in the number of people on temporary layoff (1.340 million). This suggests old jobs were restored more so than a lot of new jobs were created. But in any case, more people working is a good thing, as is the uptick that was noted in average hourly earnings, and the decline in unemployment rates for all ethnic groups.
So with all this data, what's your thought on the Road Ahead for this economy ?
Rick, on its face, the employment report was encouraging as it did come in ahead of forecasts which led to general commentary that COVID's resurgence has not as of mid-July slowed the pace of U.S. economic recovery. However, best to put the report in a broader context.
From February to April 2020 the US economy lost -22.2 million jobs (152.5 million in February to 130.3 million in April) due to COVID business shutdowns. The labor market recovery pace has been choppy. May added back +2.7 million jobs, June added back +4.8 million, and July was +1.8 million. The recouped jobs total +9.3 million which is 42% of the -22.2 million total jobs lost to COVID.
The present unemployment rate of 10.2% is well in the range of the two worst periods of joblessness since 1948: December 1982 (10.8%) and October 2009 (10.0%). More strikingly, labor force participation is now just 61.4%, the worst level since 1976 and lower than either prior peak for unemployment (December 1982 64.1%, October 2009 65.0%). Clearly, COVID has put a big hole in the U.S. economy and the damage is evident in the labor market as 5.8 million of the Americans who held the jobs lost have left the workforce since February, hence the drop in labor participation. This unfortunately hit college educated workers, something that bodes ill for a recovery in consumer spending. That said, Congress should look deeper into the employment report than the headline number because another COVID relief package is sorely needed as the employment hole will take well into 2021 to fill.
Meanwhile, the stock market will see further earnings estimate increases off the back of the much stronger than anticipated 2Q 2020 earnings season where, with 89% of the S&P 500 index reported, 83% beat EPS estimates (average outperformance +22.4%, a record) and 64% beat revenue estimates (average outperformance +1.6%). Wall Street analysts dramatically underestimated earnings leverage in Q2 and are being very cautious in revising their estimates for the rest of 2020, all of which points to further upside revisions to come.
Interestingly, the stock market reaction to 2Q 2020 has been to narrow the margin by which Growth has been outperforming Value and to support better performance from smaller market cap shares as investors have been encouraged by the economic data, the likelihood of further fiscal relief to limit further damage from COVID and the possibility of COVID vaccine candidates successfully completing trials.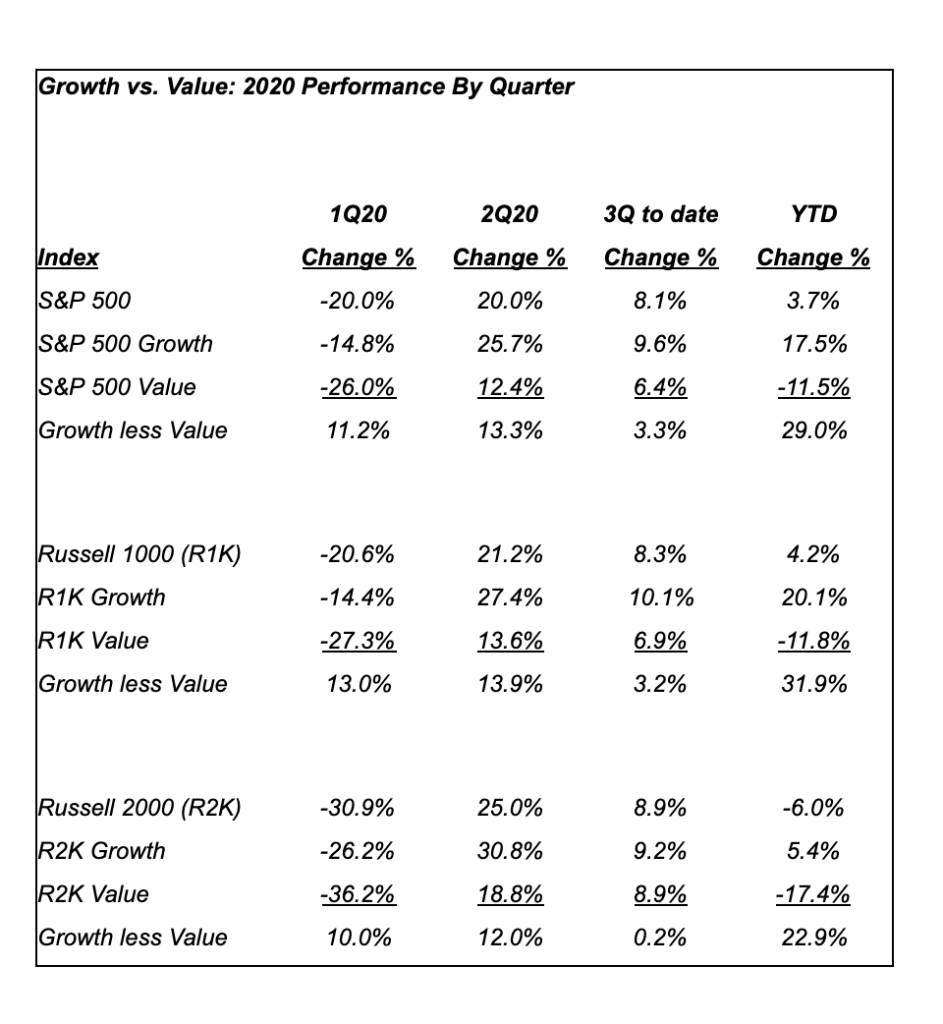 So, Rick, the road ahead remains rocky with a number of unknowns to be resolved, not the least of which is how well the upcoming school year begins. Should COVID infections rise with schools reopening, the knock-on effects to the U.S. economy will be material. However, we are of the opinion that the "V-shaped" recovery in corporate profits will continue to sustain the stock market, although volatility is likely to remain pronounced.
Question 2
David, let's go back to one of our Laidlaw 5 topics, The Election. With less than 100 days to go before this year's U.S. elections, anything could change, from voter sentiment to the candidates' standing to the trajectory of the coronavirus pandemic, which has sickened millions, killed more than 150,000, and driven the nation's economy into the worst downturn since the Great Depression. All the more reason, then, for investors to hedge their bets on the election results, preparing for several possible outcomes—each with different implications for policy, the economy, and financial markets.
So, given what we know, how would you suggest clients be positioned as the election begins to come more into focus? For example, I know portfolio decisions will be different if the Republicans maintain the White House vs. The Democrats taking the White House and possibly a "Blue Wave"
Rick, the coming election will be a referendum on just how willing the U.S. electorate is to ignore the devastation a fragmented response to COVID has brought to the country. Given the perilous state of the economy are voters willing to put the interests of party ahead of country? The fortunes of the GOP hang in the balance.
Meanwhile, Napoleon once said, "never interrupt your enemy when he is making a mistake." In that spirit, Democratic Presidential candidate Joe Biden is benefitting every day as the Trump Administration blunders continually in dealing with the COVID pandemic. The failure to move forward the necessary COVID fiscal relief threatens only to worsen the economy by removing the necessary social safety measures, something that will most likely serve to stir further unrest in the run-up to the election on Tuesday November 3rd.
With that kind of political turbulence in store, investors may look to lower duration investments as a means to limit portfolio risk. To that end, note that the recent 2Q 2020 earnings season's performance has had a positive impact on bond spreads as both investment grade ("IG") and high yield ("HY") spreads are clearly improving, they are still appreciably higher than their mid-February lows (IG: +136 basis point ("bp") versus +102 bp; HY: +506 bp vs. +356 bp). If compared to the stock market, the corporate debt market more closely resembles the Russell 2000 (-7% away from its February 2020 highs) than the S&P 500 (-1% away from its February highs). Consequently, taking gains from stocks and adding to HY debt may be an appropriate strategy in the run-up to the election.
Question 3
David, over the weekend, Barron's published a discussion on why Gold and TIPS (i.e. Treasury Inflation Protected Securities) are the best protection for a falling stock market. While we have covered Gold in past Episodes and the fundamental backdrop of a falling dollar and declining real rates continue to support the bullish case for gold, we have not spent a great deal of time on TIPS. Could you offer our listener's a bit of education on TIPS and whether you agree with Barron's assertion that inflation-sensitive assets such as Gold and TIPS could be better hedges against an equity portfolio than the traditional 60/40 allocation?
Rick, back in "A Brighter Future" Episode 12 (5/12/20) we discussed inflation hedges as highlighted in an analysis published in early May 2020 by the well-known investor Paul Tudor Jones wherein he stated that the best inflation hedges were #1 Gold, #2 The Yield Curve (long 2-year bonds, short 30-year bonds), #3 The NASDAQ 100, and #4 Bitcoin.
Investors should understand that TIPS are a way of measuring market expectations with regard to what inflation will be in the future as they are a Treasury bond that is indexed to an inflationary gauge to protect investors from the decline in the purchasing power of their money. The principal value of TIPS rises as inflation rises while the interest payment varies with the adjusted principal value of the bond. The breakeven rate, or expected inflation rate, equals comparable U.S. Treasury yield minus TIPS real yield. Real yield on TIPS equals comparable U.S. Treasury yield minus breakeven or expected inflation rate.
To the extent TIPS could be considered as a proxy for #2 The Yield Curve, we are glad to see Barron's echo Jones' conclusions. With future inflation well below the Federal Reserve's +2% target rate, we would favor Gold as an inflation hedge as the current monetary policies from the Fed will likely keep interest rates at depressed levels for the foreseeable future. As such, the opportunity cost of funding a position in Gold is negligible.
Question 4
David, in past episodes we have discussed the importance of the Bond Market (it is significantly larger than the Equity Market) as well as keeping an eye on the Yield Curve and we have all heard the saying that history doesn't repeat itself perfectly in markets, but it does tend to rhyme and right now the broad markets fairly strongly resemble the late 1990s.
In saying that, what I mean is the dynamics of the yield curve continue to resemble the period in the late 1990s when a 10s-2s inversion in 1998 was followed first by a run to new highs in
stocks, only for the S&P 500 to reverse back lower by more than 22% in just three months. Then in late '98, the index recovered to new all-time highs and continued higher for 18 months, registering trough-to-peak gains of nearly 70% into the frothy top of the dot.com bubble in 2000.
So, is the Bond Market telling us the "light ahead" we all want to see as our Brighter Future, might be a "Freight Train" instead?
Rick, to your point, the bond market is the dog that wags the stock market's tail and a yield curve inversion is something all investors should pay attention to since the inverted yield curve has consistently predicted a recession each of the 5 times it has inverted over the past 50 years. However, although a recession follows inversion, the timing is uncertain. On Friday March 22, 2019, the yield on the U.S. Treasury 10-year dipped below the yield on the U.S. Treasury 3-month for the first time since 2007. Clearly, as precipitated by COVID, we are now in the recession that was then indicated. In answer to your question, COVID drove the freight train into town.
Relative to stock market parallels with the late 1990s "Internet 1.0" and "Y2K" period, I would offer that COVID provides a far better-founded case for technology adoption as the social-distancing strictures it has forced upon the world are likely to prove to be permanent.
Right now, the Nasdaq 100's price-earnings ratio of 36x compares with a 10-year average of 22x. If we assume technology shares remain unchanged, it would take roughly three years' worth of almost +20% annual earnings growth to get multiples back to the long-run average.
As such, the stock market is more than just adjusting for a brutal, but brief, economic interruption. Instead, this valuation level reflects a more profoundly altered reality. Namely, a world in which the urge to limit human interaction squeezes the old economy mercilessly, while hastening the ascent of a digital and mostly automated new one.
Granted the successful commercialization of a COVID vaccine could limit how long such a shift might last and that in part is what appears to lie behind the improved stock market performance of late for Value and Small Cap shares.
Question 5
David, as has become a tradition on "A Brighter Future" I want to turn our attention to the Fed. Last week, CNBC ran an article that suggested the Federal Reserve might announce a change to its policy-setting framework, shifting to an "average inflation" target. This change, it was said, could be announced before, or at, the September FOMC meeting. Since inflation has been running below the 2.0% target for some time, the implication is that the Fed would be comfortable allowing inflation to run above 2.0% to achieve an average inflation rate of 2.0%. According to the article, the Fed would likely signal to the market that it isn't going to raise the fed funds rate until it has met its inflation and employment targets. Considering the current unemployment rate of 10.2% is still above the peak rate seen since the Great Recession, it's going to take a whole lot of hiring activity and probably a good bit of time before the employment target is hit.
So, David, do you see inflation ever getting back to the Federal Reserve's 2.0% longer-run target on a sustained basis?
Rick, as we have discussed before the amount of monetary stimulus provided to offset COVID along with the disruption to global supply chains stemming from the trade wars waged by the Trump Administration are serving to put in place the pre-conditions for a substantial increase in inflation rates.
With the Fed prior to COVID appearing to be more focused on pursuing its employment support mission as opposed to its inflation containment objective, it is not surprising there is speculation on possible relaxation of the Fed's 2% inflation guideline. While it will not be held in its usual Jackson Hole, WY setting, the upcoming Kansas City Federal Reserve Branch economic symposium scheduled for August 27th to 28th will likely provide a forum for discussion around relaxation of inflation targeting by central banks more broadly. Bottom line, the Fed moving to be more relaxed on price stability does increase the likelihood inflation will rise over time.
Meanwhile, it is good to keep an eye on Fed Funds Futures as a forecast of future interest rates. It appears that the Fed easing the 2% inflation guideline has served to take speculation regarding negative interest rates off the table. On Friday 8/7/20, for the first time in almost 2 months, Fed Funds Futures are pricing in positive policy rates all the way through 2021.
Note that negative rates had been priced into the December 2021 Fed Funds Futures contract since Thursday 6/18/20. With Fed Funds Futures being a good leading indicator of rate market sentiment for several years, investors should be aware that they are signaling a possible backup in interest rates in the near term.
Question 6
David, as we bring today's episode to a close, I wanted to discuss the continued incredible outperformance of "Big Tech." On last week's episode, we talked about incredible earnings of MSFT, APPL, AMZN and FB and how these market leaders have been powering this market higher for a long time. The distance between the generals and the soldiers, once thought to portend a market top, is as wide as it has ever been.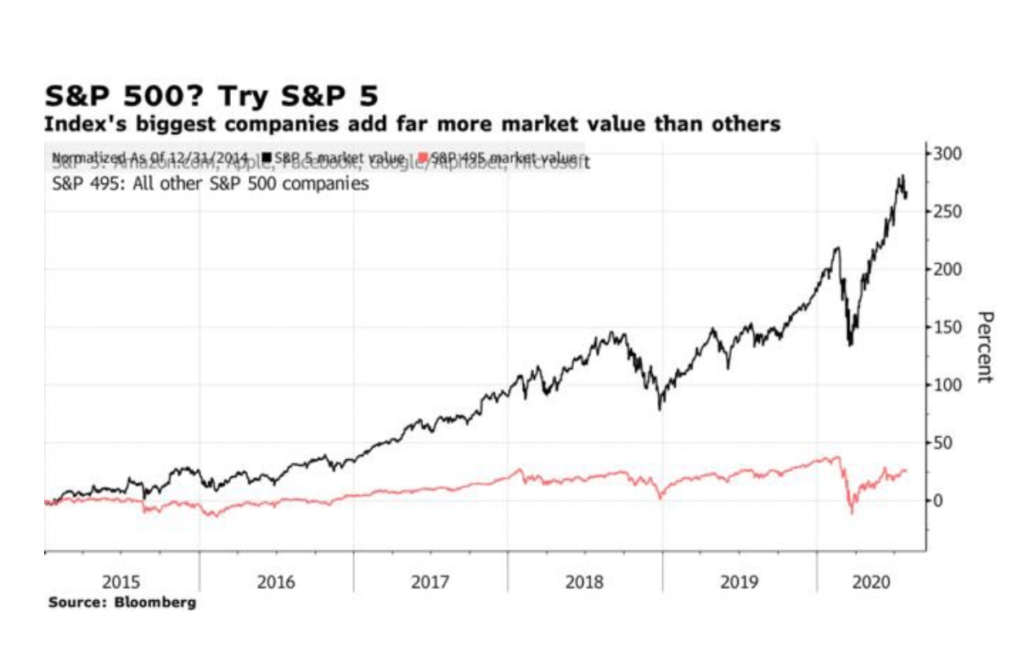 So, at this point any chatter about lousy breadth sounds like the boy who cried wolf, but what happened last week is truly remarkable. The Nasdaq Composite (CCMP) closed up +1.49%, while the Nasdaq A/D line was -971. To put that in perspective, since 2004 (as far back as there is data) there has only been one other day where the CCMP was up at least +1.49%, and there were more decliners than advancers. That was 4/16/20 which was +1.66% with the A/D line -319.
Looking at it the other way, there have been 645 days since 2004 when the CCMP had at least 971 net decliners. Prior to Friday, the best performance for the CCMP on those days was +0.67% on 6/10/20. The 2nd best day was +0.53% on 7/9/20. Which means the top three most lopsided breadth/performance days in the last 16 years have come in the last 7 weeks!
Paradoxically, this was more concerning on the way up than it is today, since now that the big five are such a large percentage of the market, it hardly matters what the rest of the stocks are doing. For example, the top three names in the NASDAQ-100, Apple, Amazon, and Microsoft, are equal to the bottom 87 stocks in the index.
So, have we reached a point with the mega-cap tech names that until they begin to breakdown a bit, it's difficult to call a top and breadth divergences are less and less meaningful?
Rick, signs of a narrowing advance in the stock market have historically been taken as indicating an approaching market top. Certainly, the $2.9 trillion in additional market valuation garnered by the NASDAQ 100 since the onset of COVID is an impressively larger number that one might think sufficiently captures the magnitude of the economic shift in their favor.
That said, it is staggering to consider the shifts that are occurring during COVID. For example, the Wall Street Journal is reporting that Amazon is reportedly in talks with the biggest mall-owner in the U.S. to turn former department stores into fulfillment centers. Simon Property Group could lease vacant spaces that were J.C. Penney or Sears stores to Amazon, which would use them as distribution centers that would get products to customers faster. Another example, in the U.K. internet sales now make up around one third of total retail spending, up from a fifth pre-pandemic as many Britons are switching to shopping online, hitting sales at high streets, retail parks and shopping malls. Note that COVID is driving similar changes across the world.
Shifts of such magnitude offer market share gain opportunities to those companies with the resources and capabilities needed to capitalize on them. To this extent, we are not surprised that the mega-cap tech names have widened out their stock market leadership.
As we discussed in the run-up to 2Q 2020 earnings season, the mega-cap tech names were essentially trading in line with their 2021 EPS growth rates. A Price-to-Earnings Growth ("P-E-G") ratio of 1.0-1.5x is not excessive by historical standards. With their results largely coming in well ahead of expectations, it is understandable their shares have traded higher.
It is entirely possible that the successful commercialization of a COVID vaccine could forestall the underlying shifts in the global economy that mega-cap tech stocks appear to indicate. However, as that discovery is very much a matter of speculation, the fact remains that larger market share of the world economy is being gained by these companies every day as COVID persists.