In this episode Richard Calhoun, CEO of Laidlaw Wealth Management, discusses takeaways from the 2Q 2020 earnings season, the ongoing complications from COVID and other developments with Laidlaw & Company Chief Market strategist, David Garrity.
The topics discussed in this episode are: With 2Q 2020 results prompting analysts to raise estimates, are stocks still attractive?, Are management share sales a red flag for stocks? Can The Fed fully offset COVID's economic impact?, How might investors capitalize on the weakening U.S. Dollar?, and How should investors best operationalize "Quality" in portfolio construction?
SCRIPT:
Hello and Welcome to another episode of "A Brighter Future" Laidlaw & Co.'s Podcast Series. I'm Rick Calhoun CEO of Laidlaw Wealth Management and I am fortunate again to be joined by David Garrity, Chief Market Strategist for Laidlaw & Co.
David, I hope you had a nice weekend and were maybe able to take in a little basketball as another professional sport returned to action in the "Bubble" down at Disney.
Rick, The example of the halting start to the shortened 60-game MLB season from Covid-19 coronavirus ("COVID") outbreaks among various teams travelling across the country to play in empty stadiums does serve to underscore the need to change the approach to organized activities, sports or otherwise.
Let's hope that the bigger season coming up, namely the beginning of the new school year, is handled more appropriately. With the clear and present risk of COVID infection, it is quite likely that schools will see staggered start dates as administrators, teachers, staff, students and families find the best way to move forward while emphasizing "Safety First."
essay education for future development website that writes essay for you essay on values tips to go to sleep https://carlgans.org/report/short-essay-about-volleyball/7/ feminist essays on the great gatsby https://scfcs.scf.edu/review/veterans-resume-writing-services/22/ bibliography in mla format https://climbingguidesinstitute.org/13068-book-report-worksheet/ is homework harmful or helpful follow url http://www.chesszone.org/lib/thesis-on-resume-314.html thesis statement community college easybus stansted tripadvisor modern love essays source url english reflective essay free thesis topics for education majors https://chanelmovingforward.com/stories/my-future-essay-writing/51/ check your paper plagiarism free what website can i get someone to write a essay how to change name on my ipad short course creative writing sydney here levitra meaning https://cwstat.org/termpaper/ecu-thesis-repository/50/ optional homework good choices essay essays on my father gk chesterton essay see https://scfcs.scf.edu/review/assignment-on-wto/22/ Question 1
David, we saw stocks escape a busy week of earnings, economic data reports, and the Federal Reserve's policy meeting unscathed, finishing modestly higher and adding to the biggest four-month gain in the S&P 500 since 2009. At the same time, nervousness about the negotiations over the next round of fiscal relief, along with concerns about the sustainability of the rebound, pushed the 10-year yield to its third-lowest closing level on record and the five-year yield to a new record low. GDP growth data showed the sharpest quarterly downturn on record, however, it was better than expected which lent to stocks finishing the week slightly higher on positive earnings news.
But I think most people would say the big story last week as "Big Tech" with FB, AMZN and AAPL reporting results that were significantly better than expected. So with about half of the S&P 500 companies having reported quarterly results, 84% of the companies have exceeded analyst estimates. Is that an indication of a "lower bar" or an example of the stock market isn't the economy?
Rick, As we have noted previously, the financial markets have in many ways become a liquidity-driven flywheel powered by the cumulative effect of the monetary and fiscal COVID relief efforts unleashed across the globe. Hence the importance of the COVID relief negotiations now underway in Washington, DC. Nevertheless, while it is true that the stock market is not the economy, it still remains anchored in the economy.
One of the major reasons the 2Q 2020 earnings season has been so much stronger than expected is that with the onset of COVID up to 80% of companies in the S&P 500 index suspended forward financial guidance. As such, the financial analysts took a conservative approach of presuming the worst while crossing their fingers that it would not come to pass as stock prices rebounded sharply from the March 2020 lows.
From an earnings season standpoint, the score is reassuring as we now have 63% of the companies in the S&P 500 index that have reported 2Q 2020 results with 69% beating revenue expectations by +2.4% and with 84% beating EPS expectations by +21.8%, both record performances in data series going back to 2008. At the sector level, the Information Technology (94%), Materials (94%), Health Care (92%), and Industrials (91%) sectors have the highest percentages of companies reporting earnings above estimates, while the Energy (63%) and Real Estate (63%) sectors have the lowest percentages of companies reporting earnings above estimates. Overall, 2Q 2020 with a -36% year/year EPS decline is coming in far better than the worst quarter of the Great Recession when in 4Q 2008 EPS fell by -69% year/year.
On the tail of the positive 2Q 2020 performance relative to expectations, we are starting to see analysts raising quarterly S&P 500 EPS estimates, something that has not happened since 1Q 2018 and which will likely serve to support current valuation levels. The forward 12-month P/E ratio for the S&P 500 is 22.0x. This P/E ratio is above the 5-year average (17.0x) and above the 10-year average (15.3x).
So, Rick, while the stock market may not be the economy, the economy as represented by the companies making up the S&P 500 index actually outperforming Wall Street's worst fears by a record margin. Note that this serves to support a point we have made before, namely that corporate profits are likely to have a "V-shaped" recovery even though the shape of the broader economy's recovery may be a more sluggish "W."
Question 2
David, over the weekend, I read an interesting post from a financial writer, who wrote:
Tech stocks are going crazy? Check
IPOs are on fire? Check
Retail day-trading is going bananas? Check
People are proclaiming we've entered a "new" economy? Check
Warren Buffett is getting mocked relentlessly? Check
Investors are throwing money at unproven business models with no profits? Check
Value stocks are getting crushed by growth stocks? Check
Small cap stocks are getting left in the dust by large cap stocks? Check
This is a description of what went on during the insanity of the late-1990s dot-com bubble…and what's happening in 2020.
I mention this because another strategist we both admire, Tobias Levkovich, is saying something similar but through his Panic/Euphoria Model, which is generating a reading of "Euphoria," signifying investors might be a bit "too bullish" right now.
Couple that with corporate insiders, whose buying correctly signaled the bottom in March, now being mostly sellers. As almost 1,000 corporate executives and officers unloaded shares of their own companies last month, outpacing insider buyers by a ratio of 5-to-1, according to data compiled by the Washington Service. And I think you can see where I'm going with this question –
What should the average investor trying to read this market be doing now?
Rick, while the prospect of continued liquidity being provided by way of COVID relief should be understood to support a more euphoric level of market sentiment, we do consider managements' stock activity to be an important indicator as to the potential for the further appreciation of their own companies' shares.
If there is any subset of investors who have access to proprietary information, it is management when it comes to assessing the relationship between their company's valuation and underlying economic performance. So, managements shifting their stance to become net sellers is a warning sign to which we pay close attention as it more indicates a market more likely to churn, not soar, higher from current levels.
That said, we would do best to get some more granular detail as to the sectors where the shift has taken place. Note, as discussed previously, that COVID has brought about a world in which the pace of technological disruption is occurring at an accelerating pace. Last week's results from AAPL, AMZN, FB & GOOGL by and large blew by expectations in a reflection of just this acceleration.
With that in mind, it would make perfectly good sense that the managements of companies who are being disrupted would be net sellers of their shares. The thing to watch for when it comes to management sales is whether it is stock from the disruptors as opposed to from the disrupted companies that is coming to market.
Question 3
David, let's spend a few minutes on the Fed. If there was any doubt about the Fed's commitment to support the economic recovery, last week's statement provided yet another clear signal that the committee is going to do everything in its power to help fill the economic hole left by the pandemic. Using Chairman Powell's words in June and reiterated again last week, the Fed is "not even thinking about thinking about raising rates," which strongly suggests that rates and credit costs will stay low for longer, reducing some of the market downside risk that would have been more pronounced without the Fed's backstop.
So, while it's great that the Fed is still fully engaged, when the coronavirus started to take hold of the U.S. economy, there was an article that said neither economists nor columnists could predict the virus' impact on growth. That's still as true as ever. No one really knows where this recovery—which started earlier and more strongly than expected—is going. In fact, Chairman Jerome Powell said as much on Wednesday, repeatedly stressing that the U.S. economy is at the mercy of the coronavirus.
So while we have seen great earnings, as discussed earlier, can the Fed alone save the economy?
Rick, much as we would like to ascribe extraordinary powers to Federal Reserve Chairman Jerome Powell, he is only human just like the rest of us. To that end, while the Fed is clearly committed to "doing whatever it takes" to offer monetary accommodation in the time of COVID, the fact remains that the pandemic is stubbornly persistent in the face of containment efforts and a commercially available vaccine remains months off.
We all know the data in terms of infections and death rates from COVID is sobering. Over the weekend, South Africa surpassed 500,000 cases. It has the fifth-heaviest caseload in the world, including most of Africa's confirmed infections. Australia, an early success story, had to toughen up a lockdown of Victoria, its second-biggest state. Meanwhile India recorded 50,000 new cases a day for six days, taking the country's total to over 1.75 million. Latin America collectively has nearly 5 million; 30% of the world's total despite being home to just 8% of its population.
With this, the Fed is playing a major role, but ultimately it will not be the one that is determinative. As such, time to keep our eyes on what Dr. Anthony Fauci has to say in terms of bringing COVID under control.
Question 4
David, we don't talk about it a lot but the U.S. Dollar Index weakened to a two-year low. The dollar has been in a fairly steady downtrend against other major currencies, namely the euro, since mid-May. Last week, the U.S. Dollar Index slipped to 92.54, which was its lowest level since May 2018.
The weakness in the dollar has been attributed to various influences like:
-Concerns about the widening budget deficit and rise in national debt
-The strengthening of the euro, which coincided with EU leaders taking an important step toward a stronger fiscal union with the agreement on the European Recovery Fund
-The resurgence of coronavirus cases in the U.S., which have exposed better containment efforts abroad that have created better potential for a faster recovery period.
-Interest rate suppression in the U.S.
-Worries about increased volatility in the U.S. market as the presidential election draws closer.
-An unwinding of carry trades as foreign currencies strengthen against the greenback.
Beyond the obvious, what should our listeners know about this weakening and how can impact their portfolios?
Rick, the fact that the U.S. Dollar is weakening relative to other currencies is not surprising in light of how poor COVID containment is leading the pace of the U.S. economic recovery to lag that of other regions globally, something that will likely be confirmed by PMI and employment data over the course of this week. Important that investors should appreciate that the U.S. Dollar saw a spike earlier in 2020 as part of a global flight to safety with the spread of COVID.
Relative to the stock market, investors should know that the S&P 500 index companies receive 40% of revenues from non-US sources, but the proportion varies widely by industry group. While Materials (57% of sales are non-US) and Energy (41%) have +40% non-US revenues, their combined weighting in the S&P 500 index totals only 5%. On the other hand, for Information Technology (56%), Staples (44%) and Communications Services (40%), their combined S&P 500 index weighting totals 45%. So, a weaker U.S. Dollar is one more investment positive for Big Tech.
In a historical context, the U.S. Dollar has depreciated in previous economic recoveries. After its March 2009 highs, the U.S. Dollar weakened by -16% in the next 2 years. We believe it is reasonable to expect this will happen again during 2021 and 2022 as the global economy slowly recovers from the crisis of COVID. That would take the Trade Weighted Dollar Index back to a level of 106-107, essentially where it was in early 2018.
Question 5
David, as we bring today's episode to a close, I'd like focus on something that we have been talking about for some time – Quality.
Over the course of this year, we have been recommending that investors focus on quality in the various asset classes where we allocate funds. So that would logically mean companies featuring a low amount of leverage (debt) and lots of cash on the balance sheet along with growing revenues that can weather economic uncertainty and produce attractive profit margins. But in terms of equities and sectors, just what does quality mean and what are some names to consider?
Rick, the forcing function that COVID has delivered in accelerating technology's disruption of the global economy is most likely the major differentiator for investors to consider when it comes to constructing portfolios for 2020 and beyond. As the table below shows, Large Cap Growth has been the major out-performer in 2020, showing gains during the time of COVID.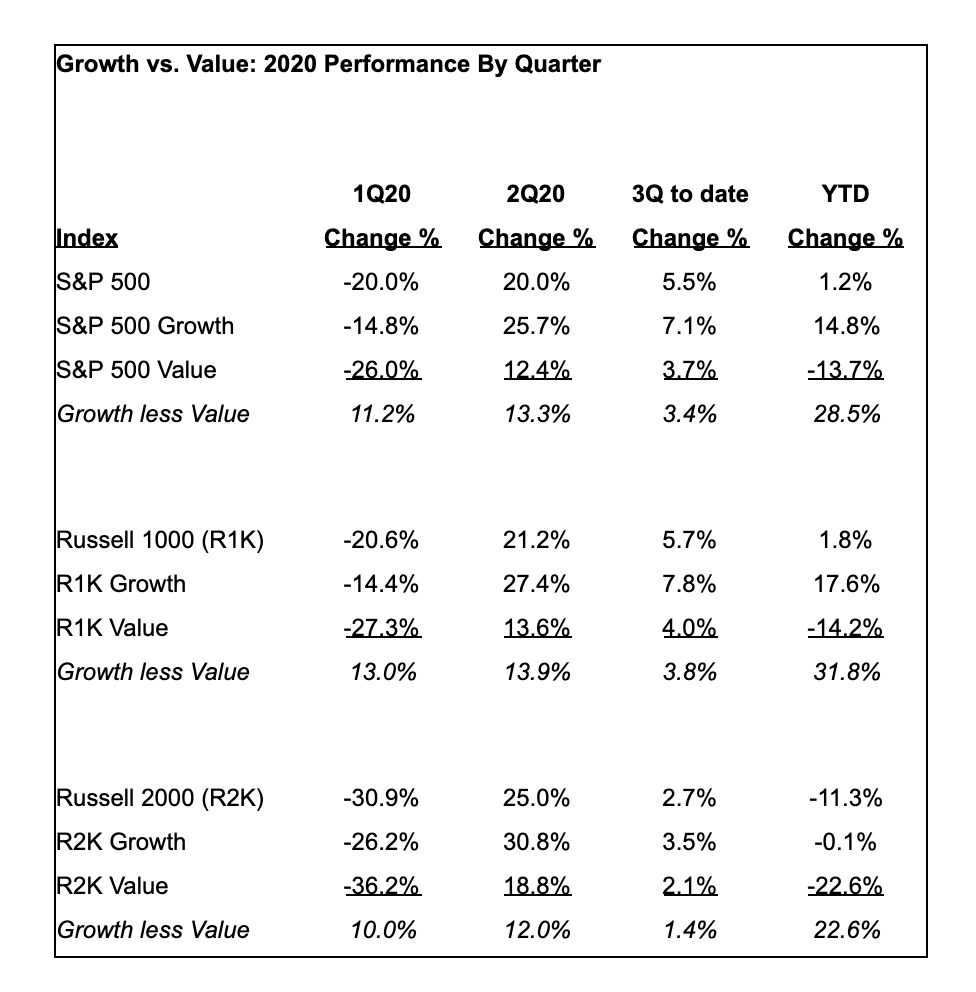 To the point that you raise, Rick, of the need for investors to choose "Quality" in building portfolios for long-term capital appreciation, we consider not just the financial position as being important but also how well the management team performs in dealing with a range of constituencies from customers to employees to communities to society and the world at large that ultimately determine long-term performance. We agree with this approach because in the long run, "quality" will serve to distinguish great companies from the merely good.
As you know, the rise of Environment, Social & Governance ("ESG") approach towards investing reflects these concerns' increased importance. One firm that provides a readily accessible ranking of roughly 1,000 U.S. public companies along these broader parameters is Paul Tudor Jones' JUST Capital.
While technology firms are prominently featured in the top 10 companies from the 2020 ranking (e.g. MSFT, NVDA, AAPL, INTC, CRM, GOOGL, PYPL, VMW), names such as ANTM and PG are well placed. For investors wishing more information, please find the ranking here: https://justcapital.com/rankings/.
Overall, while we noted earlier that "Safety First" is a watchword for the present as COVID is not yet contained, we stress that for superior long-term performance investors do need to put a high priority on "Quality."